Hair & Scalp: Sourced from the finest Californian almonds, this natural elixir deeply nourishes your hair and scalp, promoting healthier more radiant hair. Rich in vitamins and minerals, it strengthens hair, reduces split ends and tames frizz, leaving you with silky-smooth results. Say goodbye to a dry itchy scalp as the oil's moisturising properties help to soothe and hydrate. This benefit can also help with beard dandruff. Unlock the true potential of your hair with our premium Sweet Almond Oil.

Skin Care: Experience the nourishing power of our Sweet Almond Oil for your skin. Suitable for all skin types, including delicate baby skin, this natural oil provides deep moisture and hydration, leaving your skin supple and glowing. With its gentle yet effective nutrients, it helps combat acne and promotes a clearer complexion. Elevate your skin care routine with our 100% pure Sweet Almond Oil, and indulge in the ultimate skin nourishment for a radiant, flawless appearance.

Face: Uncover the transformative power of Sweet Almond Oil for your face. Bid farewell to dark circles as this natural oil brightens and rejuvenates your under-eye area. Nourish your facial skin with deep hydration, unveiling a radiant and youthful complexion. Pamper your lips with its moisturising properties leaving them soft, smooth and irresistible. Up your skincare game with our odourless Sweet Almond Oil and embrace the beauty-enhancing benefits it brings to your face.

Ears: Discover the gentle care of our Sweet Almond Oil for your ears. This natural oil effectively softens ear wax, making removal easier and more comfortable. Encounter the soothing relief as the oil effortlessly works to dissolve excess wax, promoting clear and healthy ears. With its moisturising properties, it helps prevent dryness and irritation leaving your ears feeling soft and nourished. What are you waiting for? Enjoy the benefits of clean, comfortable ears today. 

Nails & Body: Enjoy the versatile benefits of Sweet Almond Oil for your nails and body. Nourish and strengthen your nails, while providing essential care to your cuticles. Indulge in a soothing massage, as this luxurious oil deeply moisturises your body, leaving your skin soft and supple. Ideal for pregnancy, it serves as a gentle and natural carrier oil, helping to reduce the appearance of stretch marks and promoting skin elasticity. Our Sweet Almond oil is certified cruelty free and vegan but should be avoided by those with nut allergies.
View full details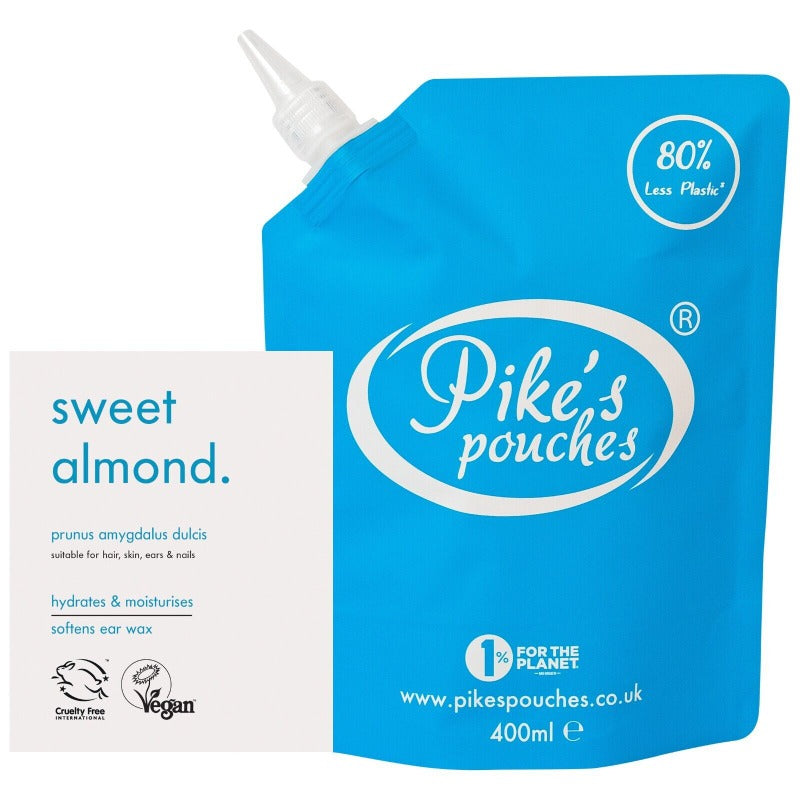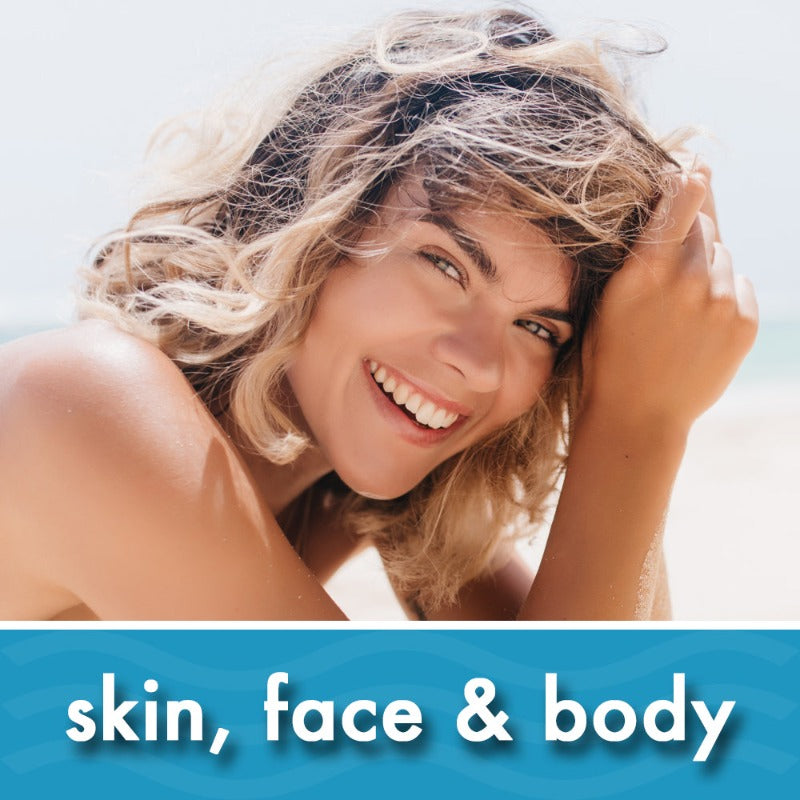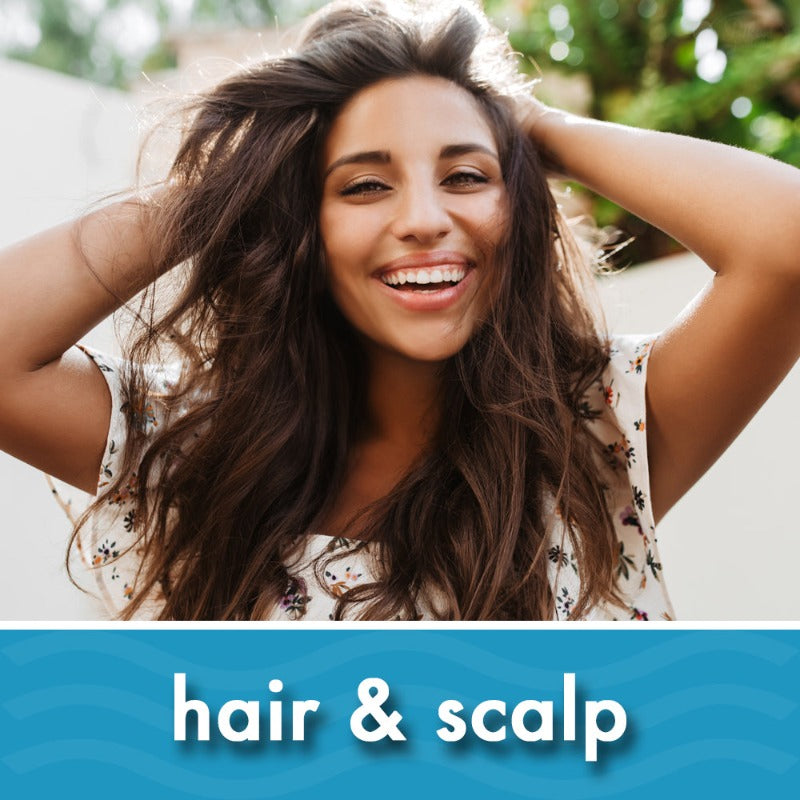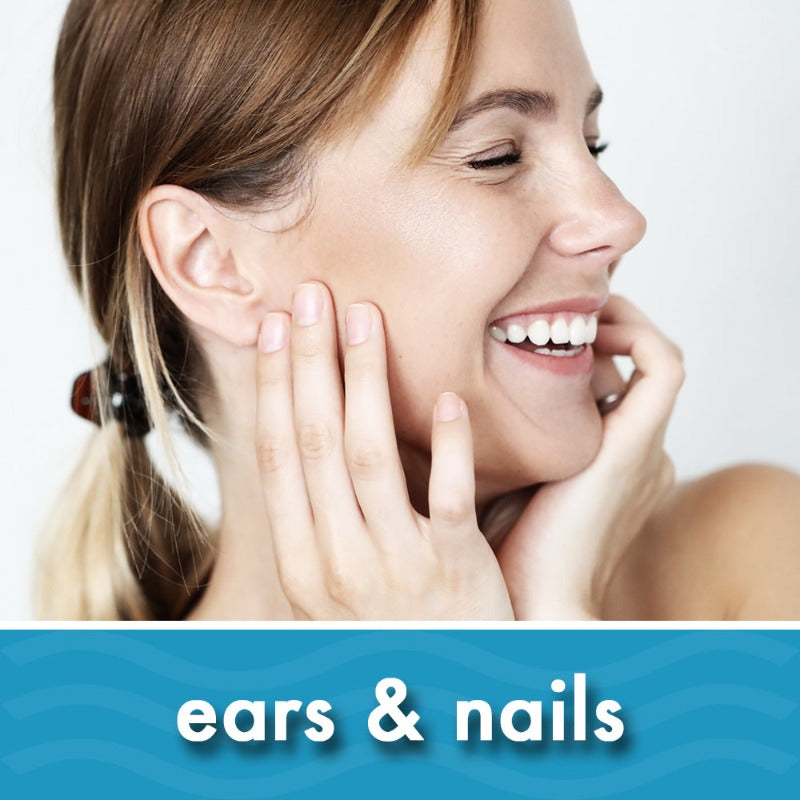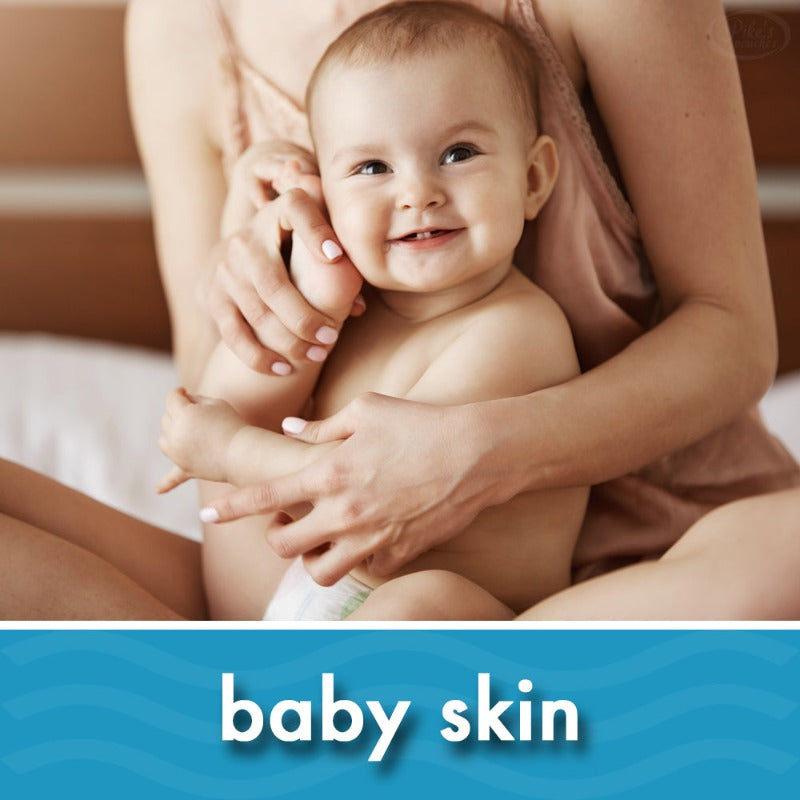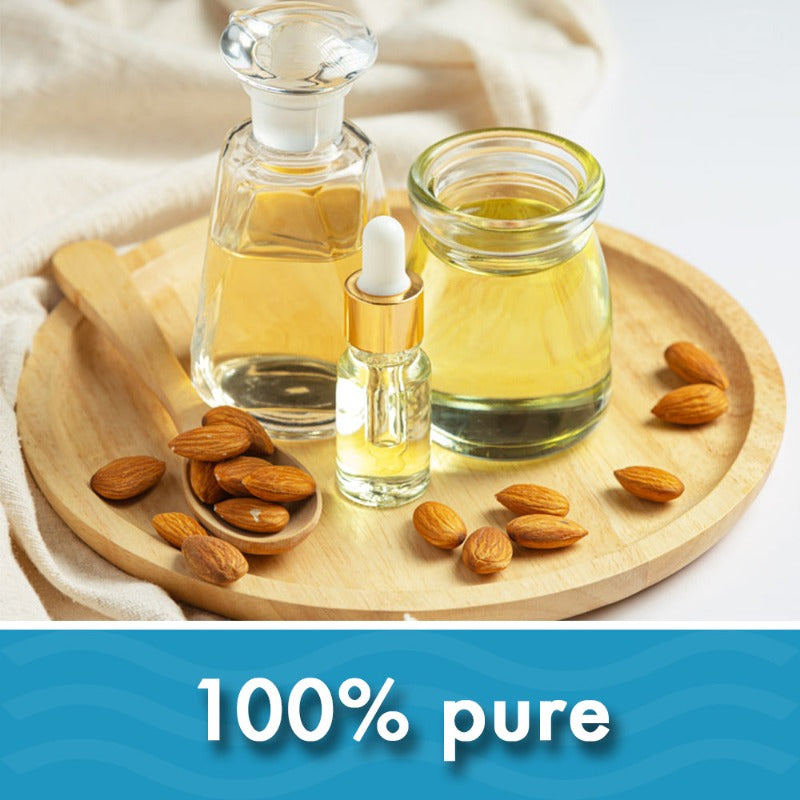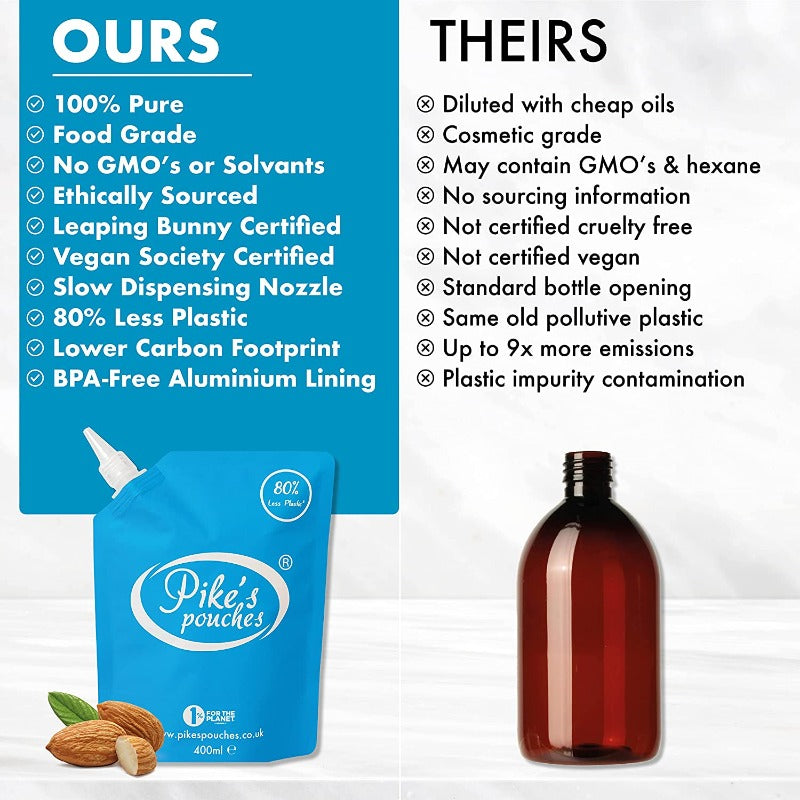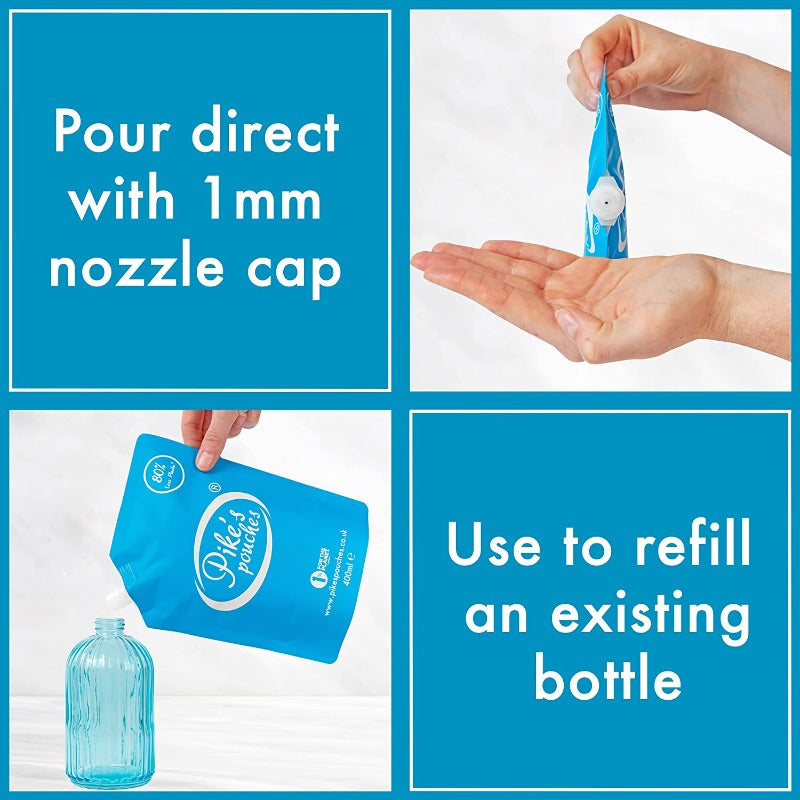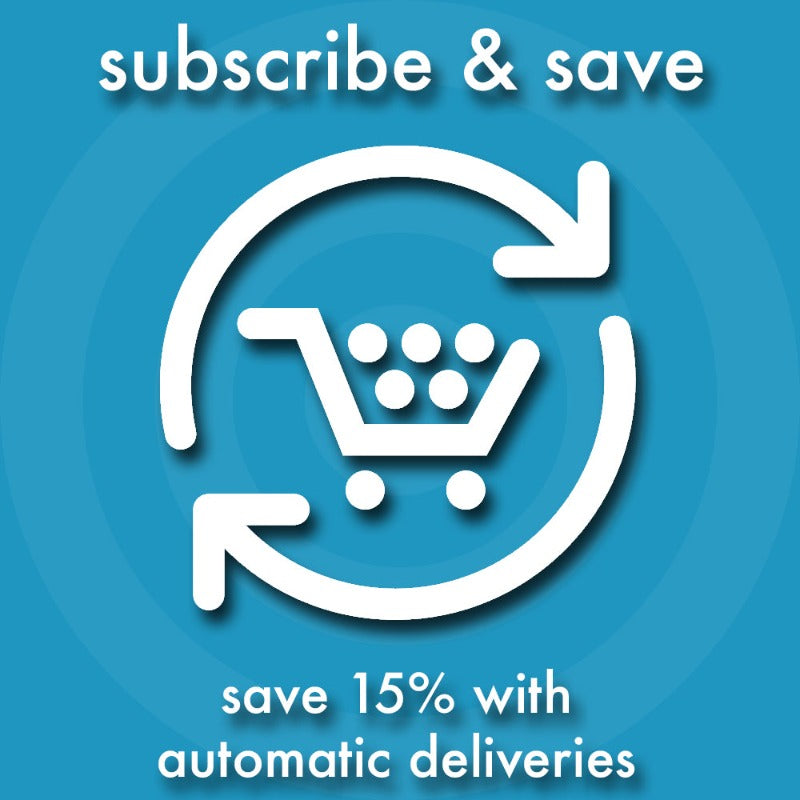 Important information
What's included?

• Pouch with nozzle cap for accurate dispensing
• Double sided product card
• Fold-back flip to secure card to pouch
Ingredients

Sweet Almond Oil (Prunus Amygdalus Dulcis)
Directions

Skin: Our sweet almond oil is suitable for anyone looking to hydrate or calm skin and can be used up to once or twice a day. Do not use if you have a nut allergy. Wash & dry skin as usual, apply a small amount to finger tips and gently massage into your skin. If using as a part of a skincare routine use it as the last step.

Hair: Our sweet almond oil is suitable for all hair types but best for dry/damaged hair, those with fine hair should use it sparingly. It can be used a few times a week but should be avoided if you have a nut allergy. Rub a small amount between your palms, apply directly to hair ensuring even coverage, massage gently into the scalp and pay extra attention to the ends of your hair.

Ears: Our sweet almond oil should be used twice a day for a minimum of 10 days. Lie on one side with the affected ear uppermost, drop a small amount of oil into your ear, remain lying on your side for 10 minutes to allow the oil to soak into earwax.
Storage information

Store in a cool dark place away from sunlight. Do not store above 20°c. Keep out of reach of children.
Legal disclaimer

This natural product cannot be guaranteed free from traces of nuts or other allergens. We always recommend conducting a patch test before using any new product. This product is not intended to treat, cure or prevent any disease. The information provided about the beneficial properties of this product are derived from the use and characteristics commonly attributed to them.