Soothe Your Dog's Itchy Skin: Our oatmeal & aloe vera dog shampoo is specially formulated to provide relief for itchy skin. The natural antioxidants and anti-inflammatory properties help soothe irritated skin, providing your furry friend with much-needed relief from scratching and discomfort.

Combat Dry Skin and Dandruff: Say goodbye to dry skin and pesky dandruff with our oatmeal & aloe vera dog shampoo. Enriched with moisturising properties, this shampoo helps restore moisture to your dog's skin, leaving it hydrated and nourished. It effectively tackles dryness and dandruff, often caused by allergies or harsh grooming products, promoting a healthier coat. 

Gentle Care for Sensitive Skin: Our dog shampoo is specially designed to be gentle on sensitive skin. Free from harsh ingredients like SLS, SLES, parabens, and alcohol, it minimizes the risk of irritation and allergies. pH balanced, hypoallergenic, and certified vegan, this shampoo provides a safe and effective solution for dogs with sensitive skin, giving them a soothing and enjoyable grooming experience.

Naturally Antibacterial and Antifungal: Our oatmeal & aloe vera dog shampoo harnesses the natural antibacterial and antifungal properties of its ingredients. This powerful combination helps combat various skin conditions, including hot spots, ringworm, and yeast infections. Regular use of this shampoo can not only alleviate existing skin problems but also aid in preventing future infections.

100% Natural and Hypoallergenic: Give your furry companion the best care with our 100% natural and hypoallergenic dog shampoo. Free from anything artificial, it is carefully crafted to be gentle on your dog's skin and coat. This shampoo is lovingly made in the UK, providing you with a reliable and high-quality product that ensures your dog receives the utmost care and protection.

Suitable for - Dogs aged 12 weeks & over.
View full details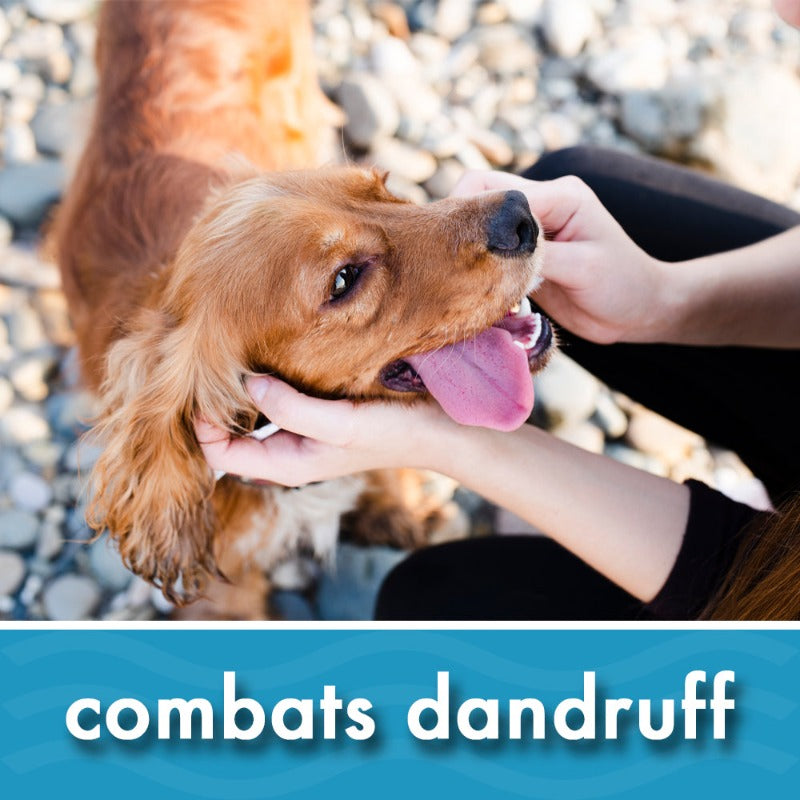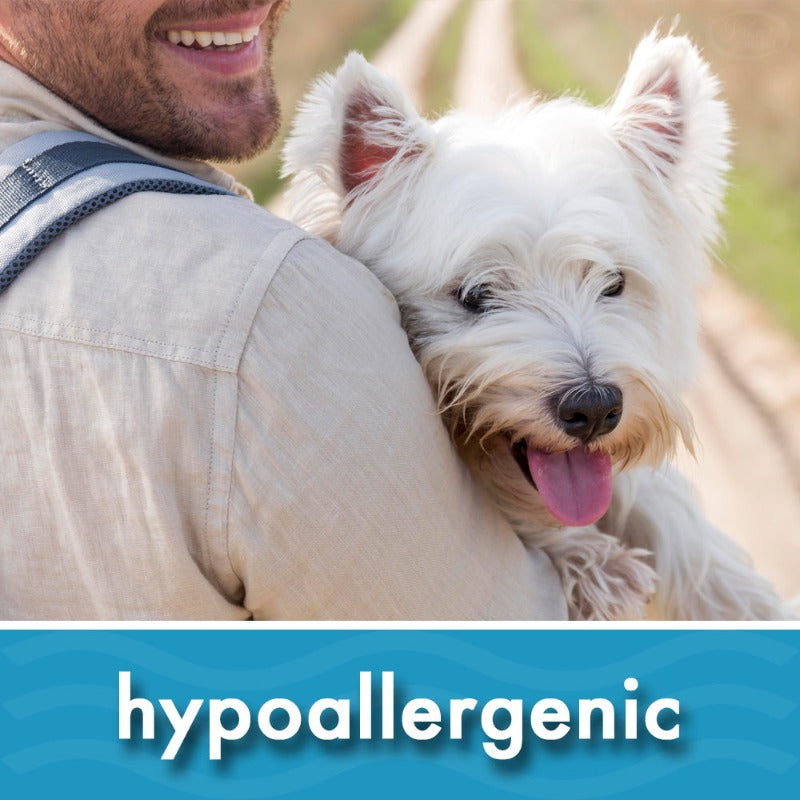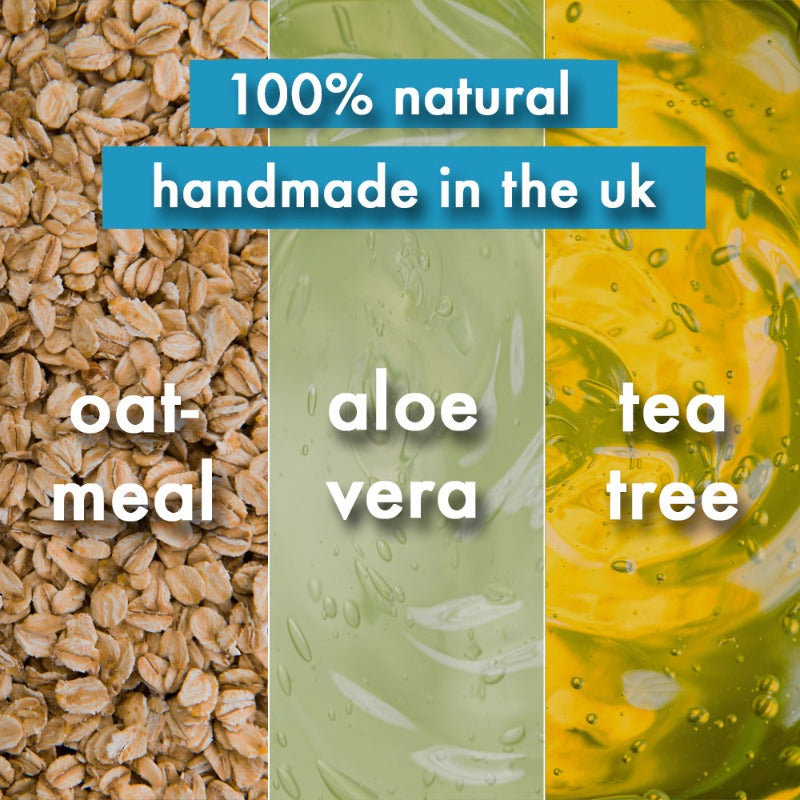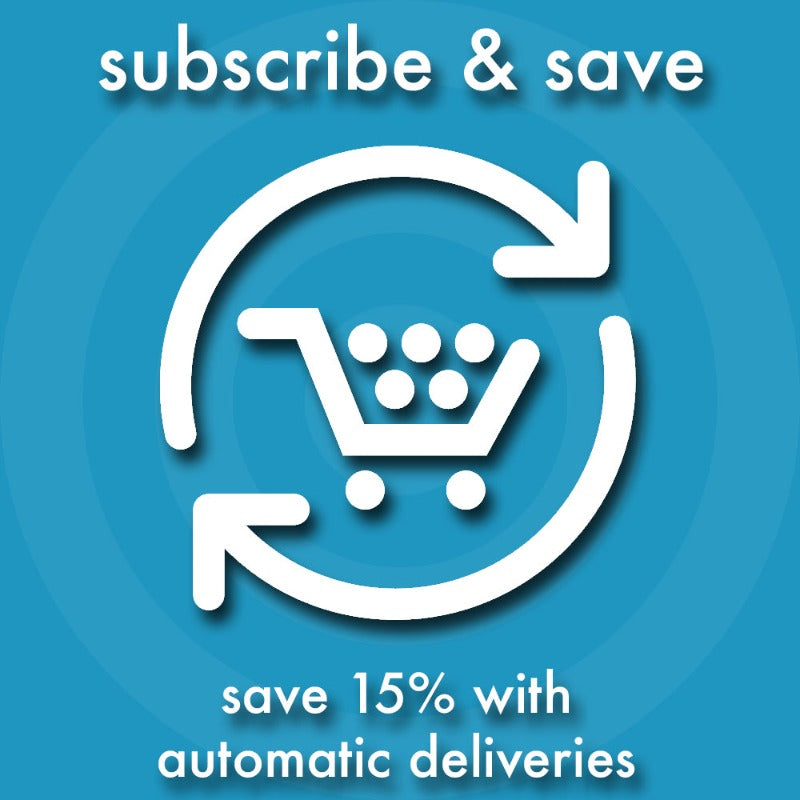 Important information
What's included?

• Pouch with nozzle cap for accurate dispensing
• Double sided product card
• Fold-back flip to secure card to pouch
Ingredients

Colloidal Oatmeal, Aloe Vera, Tea Tree Oil (less than 1%), Peppermint & Lavender
Directions

Wet your dog's coat with lukewarm water, gently massage shampoo throughout coat, pay extra attention to areas of dry skin & irritation, rinse thoroughly and towel dry or blow dry for optimal results. Can be used daily.
Storage information

Store in a cool dark place away from sunlight. Do not store above 20°c. Keep out of reach of children.
Legal disclaimer

This natural product cannot be guaranteed free from traces of nuts or other allergens. We always recommend conducting a patch test before using any new product. This product is not intended to treat, cure or prevent any disease. The information provided about the beneficial properties of this product are derived from the use and characteristics commonly attributed to them.